The World's First 61W
GaN Travel Adapter with
5 USB Ports & Auto-Resetting Fuse
Passport II PRO from Zendure  
The World's First 61W GaN Travel Adapter with 5 USB Ports & Auto-Resetting Fuse
Passport II Pro from Zendure  
In 2017, we launched a widely acclaimed product on Kickstarter: Passport, a universal travel adapter with an auto-resetting fuse to help travelers get away from the annoyance of single-use fuses. We've followed up with two other products: Passport Pro and Passport 30W. Thousands of Passport devices have been shipped around the world, thanks to the support of our backers. Our fourth installment marks a bigger leap than we've ever taken before. Passport II Pro is more than just a travel adapter. It is an indispensable powerhouse for home use as well.
Passport II Pro will be launched on Kickstarter at June 29th 10AM EST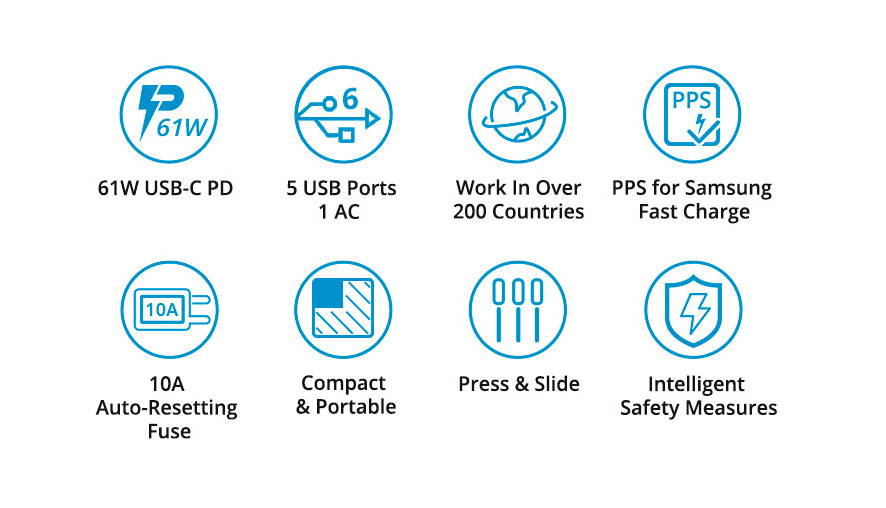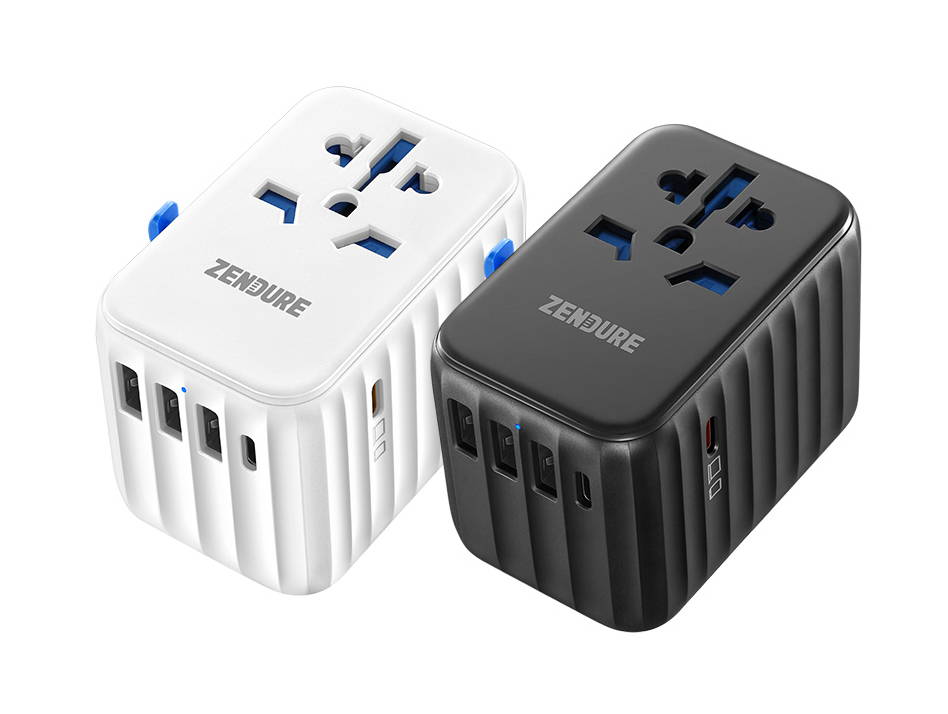 ---

61W for Rapid Laptop Charging
It only takes 2 hours to fully charge a 13'' MacBook Pro. Leave your laptop charger at home. With Passport II Pro and a USB-C to USB-C cable, you're packing lighter and smarter than ever before. Plus, Passport II Pro has enough ports to charge up to five other devices. The 61W USB-C PD port isn't just for laptops. It supports mainstream fast charge protocol like PD, QC, PPS 3A, AFC and FCP for fast charging Apple, Samsung, HUAWEI and more. iPhone 11 Pro can be charged up to 50% in 30 minutes with PD 3.0, and Samsung Galaxy S20 can be fully charged in just one hour with PPS 3A.
---

Passport II Pro is equipped with 5 USB ports (2 USB-C ports & 3 USB-A ports) and a multi-region AC outlet, allowing you to charge up to 6 devices at the same time. No need to carry several different chargers for all your devices. Keep your desk neat and clutter-free with Passport II Pro. Passport II Pro's sleekness and versatility really shine when it's time to hit the road. You'll have so much extra space in your bag, you might hear an echo.


Passport II Pro can plug into type A, B, C, D, E, F, G, I, J, K, L, N and O outlets. This is related to where you want to travel with Passport II Pro.  
Passport II Pro can accept type A, B, C, E, F, G, I, J, K, L and N plugs. This is related to the devices you want to use, or in other words, where you are from.
---
We introduced auto-resetting fuses to the travel adapter industry with our first Passport. In the event that you plug something into your travel adapter, the fuse will stop the flow of power. Most travel adapters on the market have a single-use fuse that you'll have to replace if this happens. Passport's auto-resetting fuse means you're back in action within about a minute. And with Passport II Pro, the fuse has been upgraded to 10A, which means Passport II Pro is compatible with many high-power devices that other travel adapters can't handle, including many brands of hair dryers, hair straighteners, and electric kettles.

---
The retractable plugs are integrated into Passport II Pro's all-in-one design and can be accessed with one hand using the Press & Slide controls. The sliding action is smoother than ever, for ease of use and a better user experience.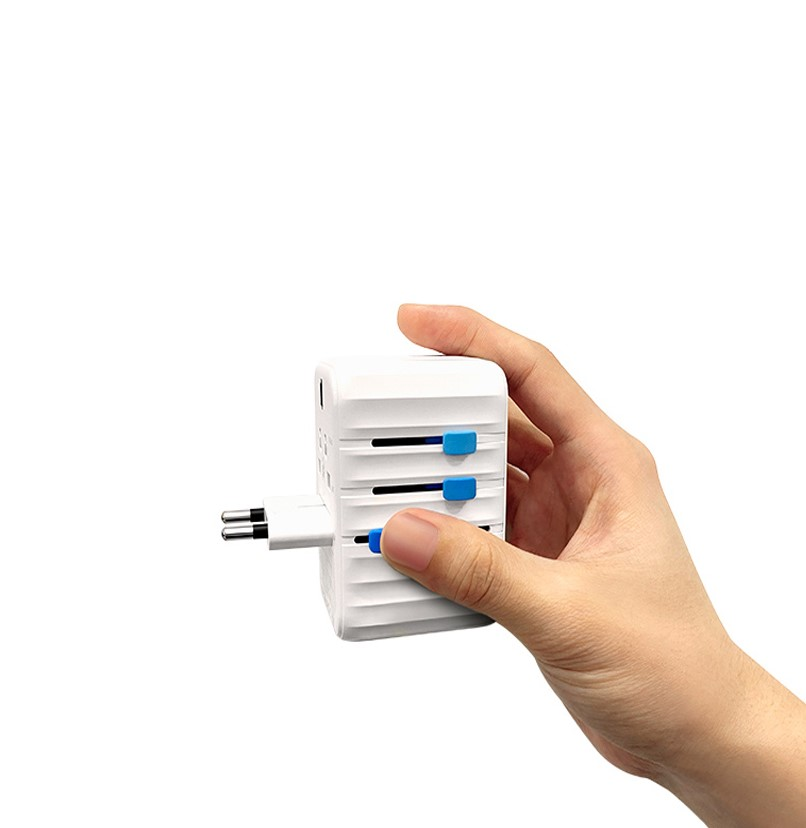 It can be difficult for a product development team to decide which direction to go: should we give it more ports to charge more devices, or should we make it smaller so it's more convenient? And if we make it smaller, does that mean we can't make it more powerful? Thanks to cutting-edge GaN technology and several long meetings with engineers, we don't have to make that choice. Passport II Pro is 20% smaller than Passport 30W, despite delivering over twice the power and having more ports. It's like having your cake and eating it too… and then charging your laptop with the cake.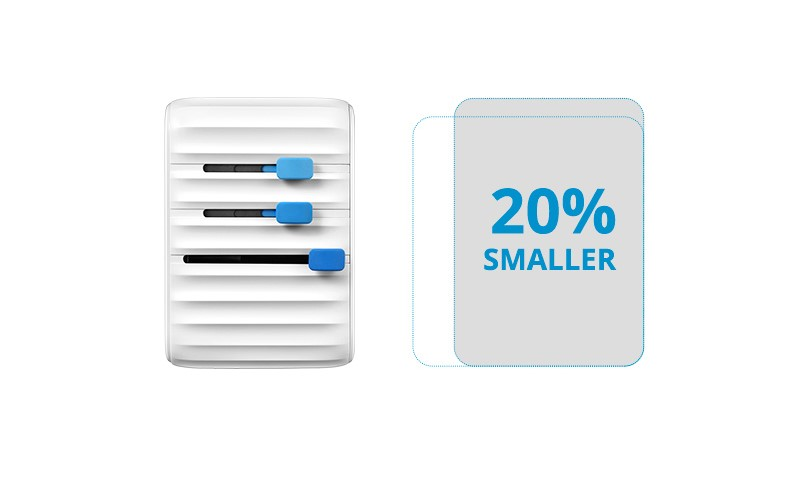 ---

GaN Technology:
Our Little Secret  

GaN Technology: Our Little Secret  

So what is GaN? Semiconductors (electronic components that make many wonderful things possible) are typically made with silicon. But in some applications, GaN (Gallium Nitride) has proven to be superior. In power converters, GaN semiconductors operate at a higher efficiency. This means they generate less heat when performing a task, which means engineers don't have to dedicate as much space to managing that heat. The result? A smaller product with more power. The future's so bright and small, you'll need prescription shades to see it.
---
Intelligent Safety Measures
Safety always comes first. Passport II Pro adopts a child-proof shield to make sure that the AC outlet is only used for plugs… in case of a curious toddler pry open the sockets with any small object and potentially get shocked.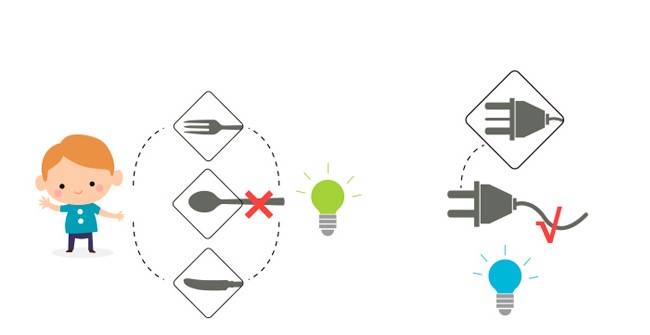 ---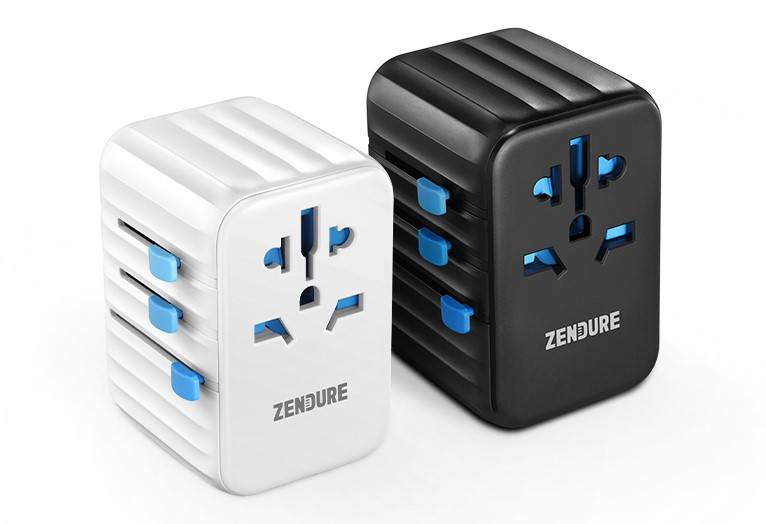 We'll let you know when Passport II Pro launches so you can take advantage of exclusive Early Bird Discounts.
Passport II Pro will be launched on Kickstarter at June 29th 10AM EST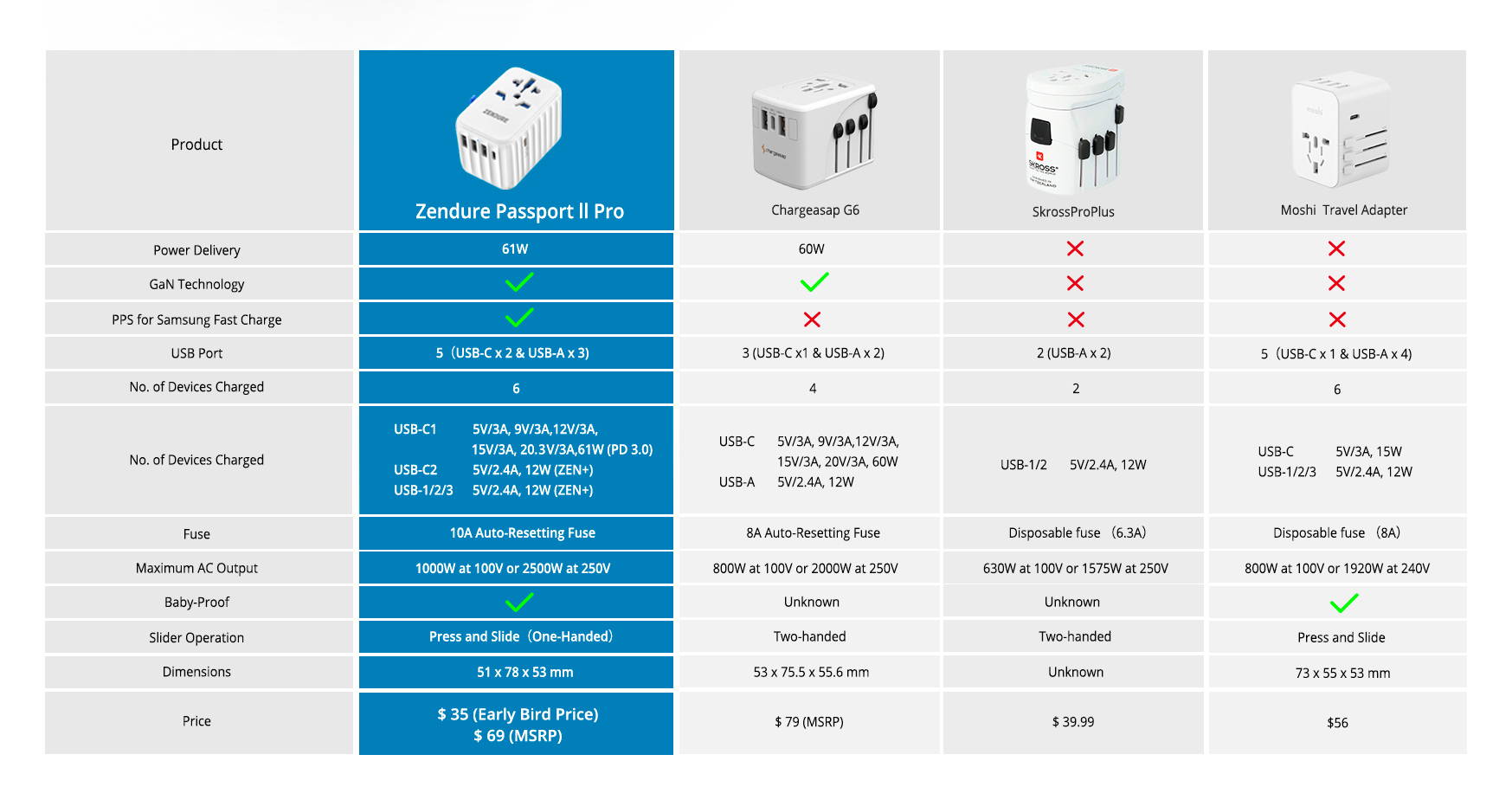 ---
Zendure was founded in 2013 by Tom Haflinger and Bryan Liu. Zendure has a portfolio of innovative, premium quality products delivered to over 20,000 backers on Kickstarter, including the A-Series, the world's first crush-proof external batteries; SuperTank, a massive portable charger that has brought in over $1,000,000 USD in funding worldwide; SuperMini, a credit-card-sized 10,000mAh portable chargers with 18W Power Delivery; SuperHub, a compact charger, HDMI adapter and USB hub with dual PD output. All of our crowdfunding projects are successfully fulfilled. Our experience with charging technology and our concern for the current global situation has led us to the release of Passport II Pro, a travel adapter that is also indispensable for the home office.