SuperBase Pro: The Perfect Mother's Day Gift
Moms should be celebrated every single day. But if we're going to dedicate one particular day to show our love and appreciation for the mothers in our life, we'd better do it right. And while there are all types of moms, there is one unforgettable gift that will show just how much you care. Here's why SuperBase Pro is the ultimate Mother's Day gift, for any type of mom in your life.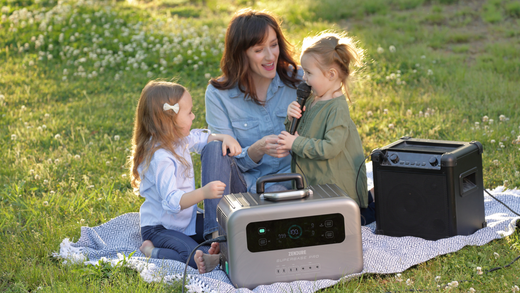 Tech Savvy Gamer Mom
Mom can keep her Nintendo Switch and wireless earbuds charged in any situation, thanks to SuperBase Pro's 2,096Wh capacity. And there's plenty of juice left over for a tablet, e-reader, and much more. With 14 output ports, SuperBase Pro has all of mom's gadgets covered.
Director/Producer Mom
Sometimes moms are tasked with taking lots of photos and videos of the family as keepsakes or to share on social media. And getting things just right often means bringing out the big guns: a nice camera, some lights, and a little touch-up before the big show. With SuperBase Pro, Mom doesn't have to worry about a dead camera battery. And SuperBase Pro has enough output power to run a hairdryer, and she can even charge a drone on the go for the major "wow" moments. SuperBase Pro's built-in wheels can come in handy for outdoor events, so the whole family is ready for "action".
Entrepreneurial Moms
Event planning, catering, and consulting are some of the most popular businesses for moms who operate their own companies. One thing almost any small business needs is power. Running a small kitchen, mobile office, or vendor kiosk is no sweat for SuperBase Pro. With patented AmpUp technology, SuperBase Pro can run appliances that require up to 3,000W, and it can even deliver 4,000W of startup power for refrigerators or other inductive loads. For entrepreneurial moms, that means less time worrying about power, so they can take care of business.
Outdoorsy Camping Moms
If you know a mom who loves camping, SuperBase Pro is a slam dunk. Zendure's power station is built for durability and portability, with industrial-grade wheels and an extending handle for ease of locomotion. And thanks to SuperBase Pro's 2,096Wh capacity, Mom can bring all the comforts of home, if glamping is her speed. SuperBase Pro has six AC outputs (four in the EU model) for portable cooking appliances, an air conditioner, a fridge, a stereo, mood lighting or just about anything else.
Environmentalist Moms
Did you know that SuperBase Pro works with solar arrays up to 1,800W? That means you can charge SuperBase Pro to 80% in just one hour. Zendure's power station is all about sustainable energy. And SuperBase Pro doesn't release the harmful fumes that gas generators do. SuperBase Pro has a companion app that tracks Mom's green energy use in a virtual "ZenForest". As the ZenForest grows, real trees are planted around the world in her name, providing more habitats for wildlife and keeping greenhouse gasses in check.
Get Mom a SuperBase Pro
It has never been easier to own a SuperBase Pro. Order SuperBase Pro now to save $400.