Be Prepared for Tornadoes and Other Severe Weather Events
Are your family, business, and property prepared for severe storms? Below are some guidelines and tips to help you stay safe.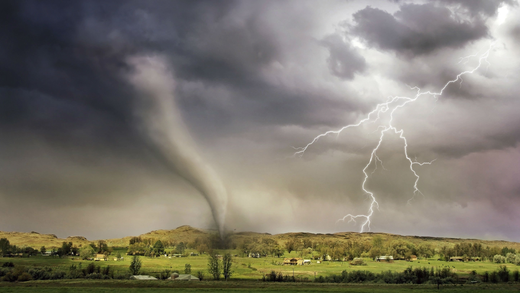 Steps to take before a severe weather event
Know your area's tornado risk.

 In the U.S., the Midwest and the Southeast have a greater risk for tornadoes and major storms.

Know the signs of a tornado

, including a rotating, funnel-shaped cloud, an approaching cloud of debris, or a loud roar like a freight train.

Sign up for your community's warning system.

 The Emergency Alert System (EAS) and NOAA Weather Radio also provide emergency alerts. If your community has sirens, then become familiar with the warning tone.

Pay attention to weather reports.

 Meteorologists can predict when conditions might be right for a tornado.

Identify and practice going to a safe shelter

 such as a safe room built using FEMA criteria or a storm shelter built to ICC 500 standards. The next best protection is a small, interior, windowless room or basement on the lowest level of a sturdy building. A closet or hallway with no exterior walls is often a good choice.
Plan for your pet. An emergency plan should include all members of the household.

Prepare for long term stay-at-home or shelter-in-place

 advisories by gathering emergency supplies, cleaning supplies, non-perishable food, water, medical supplies and medication.
Severe weather prep kit essentials
Water (one gallon per person per day for several days, for drinking and sanitation)
Food (at least a several-day supply of non-perishable food)

A power station like SuperBase Pro to power appliances, smart devices, lights, medical equipment, and more.

Battery-powered or hand-cranked radio and NOAA Weather Radio with tone alert

Flashlight

First aid kit

Extra batteries

Whistle (to signal for help)

Dust mask (to help filter contaminated air)

Plastic sheeting and duct tape (to shelter in place)

Moist towelettes, garbage bags and plastic ties (for personal sanitation)

Wrench or pliers (to turn off utilities)

Manual can opener (for food)

Local maps

Cell phone with chargers and a backup battery

Non-prescription medications such as pain relievers, anti-diarrhea medication, antacids or laxatives

Prescription eyeglasses and contact lens solution

Infant formula, bottles, diapers, wipes and diaper rash cream

Pet food and extra water for your pet

Cash or traveler's checks

Important family documents such as copies of insurance policies, identification and bank account records saved electronically or in a waterproof, portable container

Sleeping bag or warm blanket for each person

Complete change of clothing appropriate for your climate and sturdy shoes

Fire extinguisher

Matches in a waterproof container

Feminine supplies and personal hygiene items

Mess kits, paper cups, plates, paper towels and utensils

Paper and pencil

Books, games, puzzles or other activities for children
Emergency power at the press of a button
When you need power in an emergency, Zendure's SuperBase Pro is an excellent choice. Unlike a gas-powered generator, there's no pull-start, so it's easy to operate. Use SuperBase Pro to power lights, cooking appliances, life-supporting medical devices, and more.
With 2,096Wh of energy storage, 2,000W pure sine wave AC output, and 4,000W start-up capability, SuperBase Pro 2000 can start and power many home refrigerators and other appliances, and can keep phones and laptops charged for several days. SuperBase Pro's large digital display screen gives you details about power consumption and estimated remaining runtime, so you can manage and ration your reserve energy.
The safety association Bousai has certified SuperBase Pro as a recommended product for disaster prevention with the Bousai Disaster Prevention Safety Mark.
SuperBase Pro is safe to use indoors because it doesn't produce dangerous fumes that are present in traditional generator exhaust. It is also much quieter than most generators, so it's less likely to disturb you when you're trying to sleep.
Zendure's power station has 14 output ports to handle a wide range of applications. There are six AC outputs (four in the EU model), two 100W USB-C PD outputs, two 20W USB-C PD outputs, three 13.6V DC outputs, and a 12V "cigarette lighter" port.
SuperBase Pro's large digital display screen gives you details about power consumption and estimated remaining runtime, so you can manage and ration your reserve energy.
To protect SuperBase Pro from damage, unplug SuperBase Pro from the wall outlet during an electrical storm. It is not recommended that you use solar panels when it is raining or during electrical storm activity.
Gas powered generators require regular maintenance, and gasoline in storage can be come unusable over time. SuperBase Pro can be kept in long-term storage, only needing a power cycle once every six months to keep the batteries healthy. Make SuperBase Pro a part of your emergency kit.
What to do during a severe storm, like a tornado
Immediately go to a safe location.

Pay attention to EAS, NOAA Weather Radio, or local alerting systems

 for current emergency information and instructions.

Protect yourself

 by covering your head or neck with your arms and putting materials such as furniture and blankets around or on top of you.

Do not try to outrun a tornado in a vehicle.

If you are in a car or outdoors and cannot get to a building, cover your head and neck with your arms and cover your body with a coat or blanket, if possible.
What to do after a tornado
Save your phone calls for emergencies and use text messaging or social media 

to communicate with family and friends.
Pay attention to EAS, NOAA Weather Radio, and local authorities

 for updated information.

Stay clear of fallen power lines or broken utility lines.

Contact your healthcare provider if you are sick and need medical attention

. Wait for further care instructions and continue to shelter in place.

Wear appropriate gear during clean-up

 such as thick-soled shoes, long pants, and work gloves, and use appropriate face coverings or masks if cleaning mold or other debris.
Off-grid power with SuperBase Pro
Severe weather events can impair critical infrastructure for several days or even weeks, limiting access to electrical power and fuel. SuperBase Pro from Zendure is a solar-friendly solution for generating your own power when the traditional options are unavailable. An 1,800W solar array can charge SuperBase Pro up to 80% in just one hour, so you can run the necessary appliances to keep you and your family safe, fed, and comfortable.
Energy independence is now even easier with zero-interest financing on SuperBase Pro for 36 months for those who qualify, with monthly payments as low as $83.
Information relating to Tornado preparedness was obtained from these resources: