Powering Your Refrigerator with Solar Generator
Refrigerators help people store delicious food and almost all the items necessary to prepare them. Also, it is one of the largest electrical appliances in every household. On average, a refrigerator consumes anywhere between 300 and 800 watts of electricity.
The best way to reduce utility bills is to switch to solar energy. That way, the refrigerator runs efficiently even if there is a power outage. This post discusses everything that you need to know about solar generators for refrigerator. So, let's get to the details.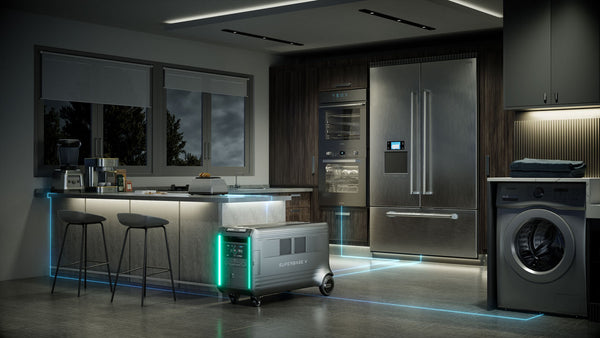 Can you run a refrigerator effectively with a solar generator?
When you are thinking about an off-grid power solution, you may wonder whether a solar generator can produce enough power to run a refrigerator. The answer to this question is yes. A solar generator can power a refrigerator effectively. You may think that a refrigerator might take a considerable amount of power to run.
In reality, it doesn't consume as much power as you may have imagined. According to a report published by the United States Energy Information Administration, a refrigerator needs around 3% of the total energy used in a household. So, it is much less than air conditioning or even lighting your home.
The amount of energy used by a refrigerator is less than heating your home. As said, most refrigerators use electricity anywhere between 300 and 800 watts. However, certain parameters such as energy rating and age of the appliance needed to be taken into account.
These days, there is no shortage of solar power devices and you can find one readily available on the market. These devices will capture solar energy and store the same to be used later. Therefore, you shouldn't have any issues regarding finding the best solar generator for refrigerators according to the specs.
What Solar Generator Size Do I Need To Operate A Refrigerator?
If you find it challenging to choose the size of solar generator to run your refrigerator, you need to consider the below-mentioned things.
1. Running or rated wattage
A majority of refrigerators will require anywhere between 300 and 800 watts of power to operate smoothly. Therefore, ensure that the solar generator is equipped with sufficient wattage to run the appliance. To know the refrigerator's wattage, see the nameplate or get it online.
Besides, if you want to operate a refrigerator and freezer from one solar generator, ensure that it can handle their combined wattage. If the refrigerator needs 200 watts and the freezer needs 400 watts, you need to buy a solar generator capable of producing 600 watts.
2. Surge or starting wattage
It is the amount of power that a solar generator generates for a limited period. Surge wattage is an important factor especially when it comes to running appliances that need plenty of power to operate.
Almost every solar generator comes with high starting wattage. Still, you have to make sure that your refrigerator won't overload the solar generator. Hence, don't forget to check the amount of power your refrigerator takes to start and compare the same with the surge wattage of the solar generator.
3. The capacity of the generator
In general, it is the amount of power that your generator can store. It is an important factor to consider because you will need stored power to operate your appliance if there is no sunlight for some time. While you may find that your refrigerator is always turned on throughout the day, it doesn't consume electricity all the time.
Refrigerators have a duty cycle that allows them to stay on and off all day long. Almost every freezer comes with a 50% duty cycle. It means they need twelve hours of electricity. If the refrigerator has 200 watts, it will need 2400 Wh throughout the day. When you add 20% for emergency usage, the solar generator should have a 2900 Wh capacity.
4. Size of the solar panel
You need solar panels to run a refrigerator and in adequate numbers. Suppose, you need a generator that produces 2900 Wh daily. If there are 4 hours of sunlight, you need 700 watts of solar panels to operate the refrigerator. If you have more sunlight, a few solar panels should be fine.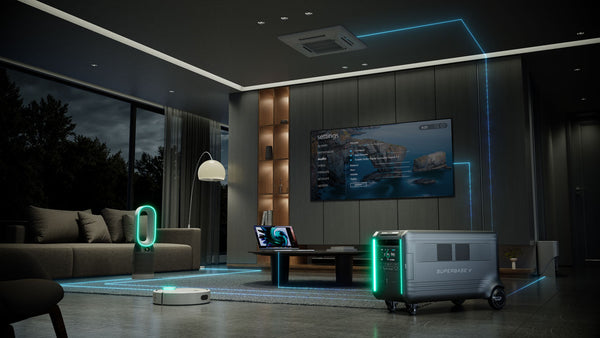 Popular FAQs about a solar generator for refrigerators
Q: Can a Solar Generator Damage a Refrigerator?
Typically, it is completely safe for a solar generator to provide the necessary power to the assigned appliances in your home. And, refrigerators aren't an exception. Solar generators can generate enough power required to operate a refrigerator. But there are a few risks associated you should know.
Make sure that the solar generator you want to use has sufficient power to operate the refrigerator. In short, the solar generator should have the right wattage to run the appliance effectively. Additionally, the refrigerator should have an advanced control panel.
Also, it should have the latest sensor technology. If so, the refrigerator should have an in-built microprocessor. To avoid any kind of damage to the refrigerator, opt for a solar generator equipped with an inverter.
The good news is that you can find several solar generators that come with a smart inverter. As a result, it ensures a smooth flow of electricity and a safe conversion of direct current into alternate current. When you use one, you don't have to worry about causing damage to your favorite appliance.
Q: How Many Watts Does A Refrigerator Use?
Refrigerators are available in a variety of designs and sizes that range from mini-fridge to huge ones that carry enough food for a big family. No wonder, a big refrigerator will require high electricity consumption.
But when it comes to using a solar generator to run a refrigerator, a small one gets more use than the large one. If you want to use a solar generator to run a refrigerator while a power outage is in place, it is wise to transfer the perishable food items to a mini-refrigerator.
Make it run from your solar generation. You will have more time while your meal stays cool for long hours. Below listed are estimated power usage on some refrigerators. You can use the averages as guidance.
709 kWh for a side-by-side refrigerator with a 25.5 cubic feet capacity
228 kWh for a mini-fridge with a 4.4 cubic feet capacity
228 kWh for a mini-fridge with a 1.7 cubic feet capacity
The above-mentioned figures are from a typical refrigerator use and should be considered a rough reference. To know about the exact power requirement, understand the user manual of the appliance.
Q: How long will a solar generator power a refrigerator?
As long as the solar generator you are using has the right wattage that your refrigerator needs along with sufficient energy storage, the unit can provide power for at least a few hours. For example, a large refrigerator can run for about three hours with 100-watt solar panels.
As you know, there are several models and sizes of solar generators readily available for you to buy. And you can find the one for your needs as well. Suppose, a mini cooler that comes with 60-watt can run for about twenty-one hours straight with 100-watt panels.
Some solar generators can even power refrigerators of about 520 watts for 3.3 hours and a mini cooler of 90 watts for fifteen hours without interruption. If you plan to use the generator for outdoor activities like camping, they are equally effective. Solar generators are the best solution for people living in areas with frequent power outages.
Q: How many solar panels are needed to run a refrigerator?
This is another important question buyers want to know before buying a solar generator for refrigerator. However, the answer depends on your specific needs. The wattage of the appliance that it will consume every hour is another important factor as well.
On average, a refrigerator may take about one to four solar panels to operate the appliance smoothly. It will depend on the capacity of the solar generator and the size of the refrigerator. The number of solar panels you need will depend on the size of the generator and approximate daily energy utilization.
For example, some of the biggest refrigerators have a capacity of 17.5 cubic feet. As such, a solar generator won't have a problem powering them. In that case, you may need three solar panels each of 100 watts along with a battery of 1.5 kWh to power average-sized refrigerators.
Conclusion
If you are thinking about using renewable, clean energy for your home, a solar generator is your best bet. Besides, imagine the frustration when your refrigerator becomes functionless because of a power outage. In that case, you may need to invest in a solar power generator for refrigerator.
As a result, your refrigerator will continue running and it will be fed to everyone in the house. Furthermore, you don't have to worry even if there is a power outage. The best solar generators will help you keep your cool at all times.
Choosing the best solar generator to make sure that you get reliable energy when your refrigerator needs it the most can be challenging. The size that you need for your appliance depends on the energy needs of your refrigerator, the capacity of the solar generator, and how long you need to power the refrigerator.