Review: Zendure ZenPods Ultralight TWS Earbuds with ANC & ENC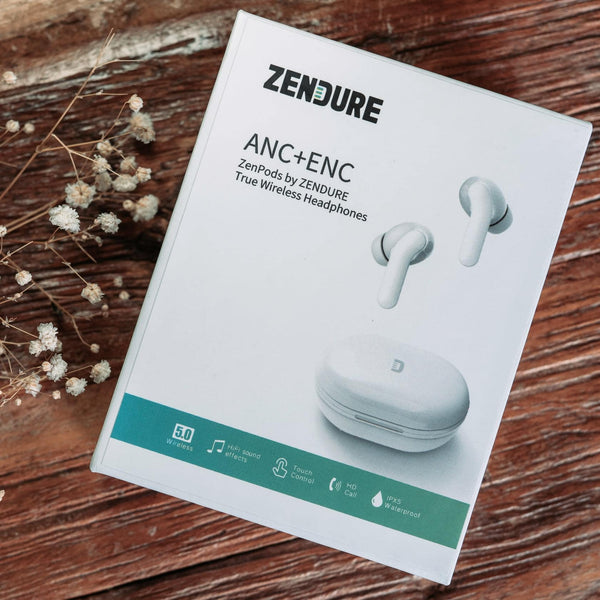 The ZenPods are available in 3 colours. Black, White and Blue. The Blue earbuds look fantastic in my opinion and stands out from its competitors.
I have received and will be reviewing a unit in white. I will present my fair and honest thoughts. This review will be fairly lengthy.
- Background
I have a couple of TWS earbuds, they include the Apple AirPods Pro, Sennheiser Momentum True Wireless 2, Master and Dynamic TWS ANC. I also own full-sized headphones from Audeze, Shure and Sennheiser. I am not a pure audiophile but i am able to recognise a good pair of earbuds when i hear one.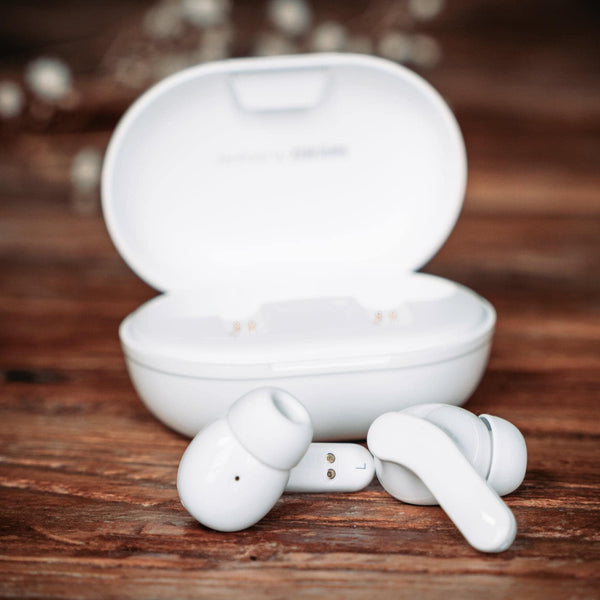 - Unboxing
The ZenPods I had received may not be final as further improvements and stretch goals are added through the campaign.
Packaging is simple and eco-friendly. It contains little plastic and is made from recyclable materials.
It includes 3 sets of tips. Large, Medium and Small.
Medium works fine for me. A USB-A to USB-C cable is also included to charge the ZenPods case.
Pairing was hassle free with my iPhone. I opened the case, took the earbuds out and went to Bluetooth. It appeared and I paired them to my device. The entire process took just a few seconds!
- Specifications
Bluetooth 5.0 (Reduced Latency, Connection of 2 Devices)
ZenPods Total Weight Including Case : 50 grams
ZenPods : 3.9 grams
Driver Size : 13mm
Bluetooth Distance : 10m
Play Time : 6 Hours on medium volume
Frequency Response : 20Hz - 20KHz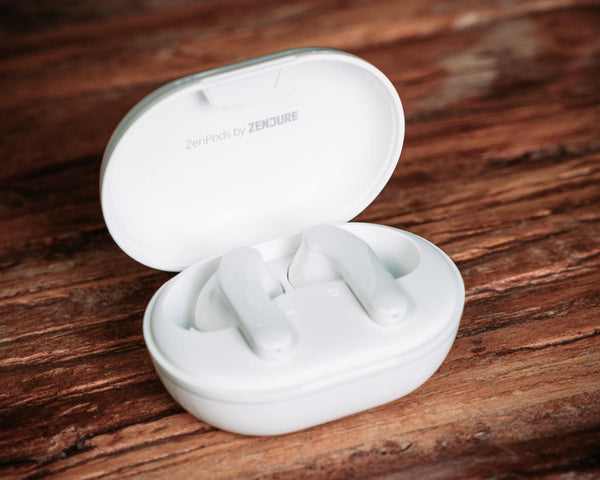 - Build Quality
The finish is glossy and pleasant to look at. The product does not feel cheap and the edges are nicely finished. They feel nice to the touch! I kept them in a carrying pouch as the glossy finish attracts scratches.
If you have owned generic earbuds you will know they cheap out on materials, the plastic used sounds hollow and prone to chipping or cracks. This is not the case for the ZenPods. It is solid and seems rather durable!
I love the size of the ZenPods! It is pocketable and similar to the AirPods Pro. I also enjoy the satisfying click when i close the case.
- Comfort
The fit is similar to AirPods Pro. They do not go for the typical deep in-ear fit but sits just outside the ear canal. As an owner of the AirPods Pro, i have grown accustomed to the shallow fit of the ZenPods and find it comfortable for extended wear.
The silicone tips are comfortable and flexible, they fit snugly in my ears. I use the medium tips and i have no trouble with them.
I did not experience friction or discomfort.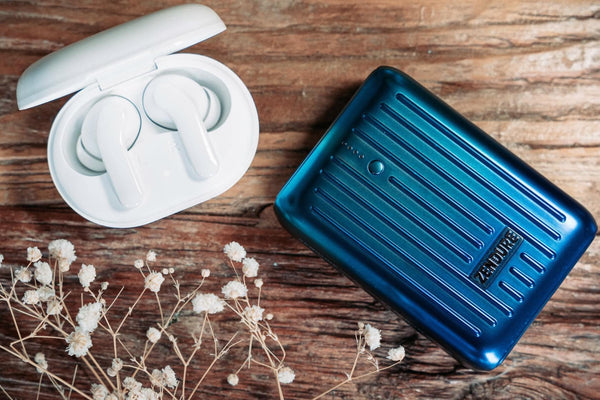 - Play Time and Charging
The ZenPods are advertised to play for 6 hours on medium volume. My listening sessions are usually short, i listened at 3/4 of max volume for about 2 hours and had about 60% battery capacity left.
The ZenPods charging case utilises a USB-C port which offers fast charging
Sound Quality and ANC performance
This is the crucial part of the review.
Do they sound good? Yes they do!
The ZenPods paired well with my iPhone and did not experience latency issues.
I was skeptical when i received these as they are Zendure's first TWS Earbuds! I was surprised and impressed when i had them in my ears! Many reviewers share my sentiment!
I was unaware of the launch price when i received these and was under the impression they would cost a lot more! I was further surprised when i realised they're available at 65 USD on crowd-funding!
In terms of sound, the 13mm drivers make a difference. Music sounds full and has depth to it. I noticed the volume gets loud. On my AirPods Pro and Sennheiser MTW 2, i maxed their volume and still felt insufficient. With the ZenPods, 3/4 of maximum volume was plenty for me.
I would describe the sound as well balanced and acoustically tuned as what Zendure had claimed. It has a warm presentation and is relaxing and comfortable to listen to.
On direct comparison, it did not sound as precise as the AirPods Pro. The AirPods Pro has excellent sound quality but i found them to be "shouty." They overly emphasise mids and highs. Vocals and trebles can get fatiguing in a short time. The AirPods Pro lacks bass. They sound great but i think they perform towards certain genres of music.
The ZenPods has better overall sound and a solid thump to its bass. Mids and highs are well balanced and i find myself enjoying it. The sound signature of the ZenPods will appeal. It handles a range of music genres well due to its tuning.
ANC performance is pretty good. It does not block out as much ambient sound as the AirPods Pro but that is to be expected, given the AirPods Pro has the best ANC i've ever come across and costs a lot more. Other brands that are priced higher can't compete.
The ZenPods has fantastic ANC performance! It blocks out plenty of background noise! The passive sealing and ANC makes a difference when you put them on. The environment becomes quiet. I think these will do well in cafes, planes or on commutes. I did not observe ambient noise when i was listening to music so the ANC is more than sufficient!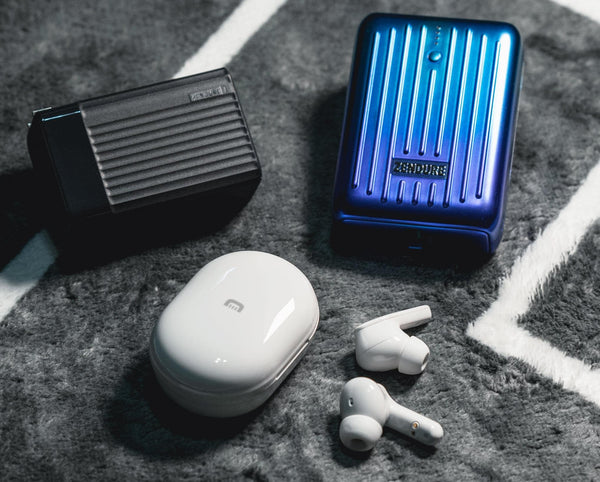 - Portability and Travel
Due to the Covid-19 situation, travelling is a problem but I have found the Zendure SuperMini and the SuperPort S2 to pair well with the ZenPods. They share a compact form factor that is suitable for travel or daily use! They occupy a small compartment in my bag and i find myself carrying a lot less during my travel.
- Closing Thoughts
Pros:
Excellent Sound Quality
Good Build Quality
Decent ANC
No Latency Issues
Good Battery Life
Cons:
Would Prefer a carrying case of some kind.
Unable to Verify Exact Battery Capacity on Charging Case
Unable to toggle ANC On or Off
These are a lot less expensive than competitors while sounding just as good! I do not think you will be able to find other earbuds in its price range that performs just as well! Should you get them?
I think you should! The ZenPods punch way above its price point!
If you have liked my review, please show Zendure and myself some support by making your purchase through my affiliate link!
Resource: 
https://www.facebook.com/mingjuncheong/posts/10158697912651203