Review: The Zendure Mix Go is a great multi-purpose battery & USB-C PD charger
The new Zendure Mix Go is a portable charger for your USB-C and USB-A devices that also houses a powerful portable battery that can be always ready to go.
The next step forward in charging is the transition from silicon-based chargers to galium nitride-based chargers, frequently called GaN. GaN chargers are significantly more compact than silicon ones for the same charging power. They are also more efficient, produce less heat, and can tolerate higher current.
That technology, combined with new, more compact battery cells paves the way for new products such as the Mix Go. If it wasn't for GaN technology, a product such as this would be much larger than it is.
Design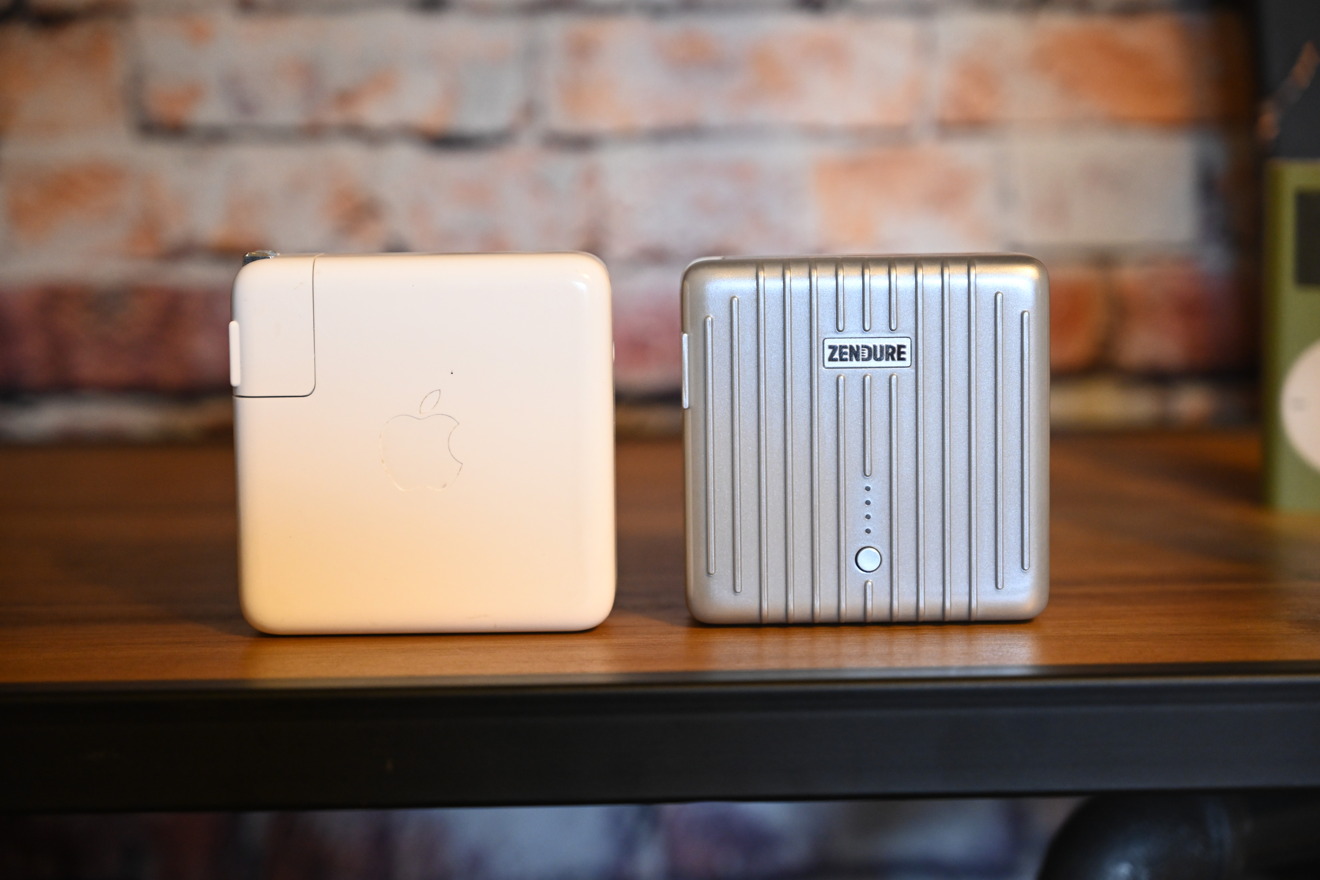 The Zendure Mix Go is roughly the same size as Apple's existing 87W USB-C power adapter included with the 15-inch MacBook Pro. However, the same space allows a 5,000mAh battery alongside the combined 45W of power output.
If you've seen any past Zendure product, the exterior the Mix Go will appear familiar. The model we have is the silver one that is covered in vertical ridges, much like the iconic Rimowa luggage. Those vertical ridges also serve a practical purpose — they make it easier to put in and take out of the wall by adding grip.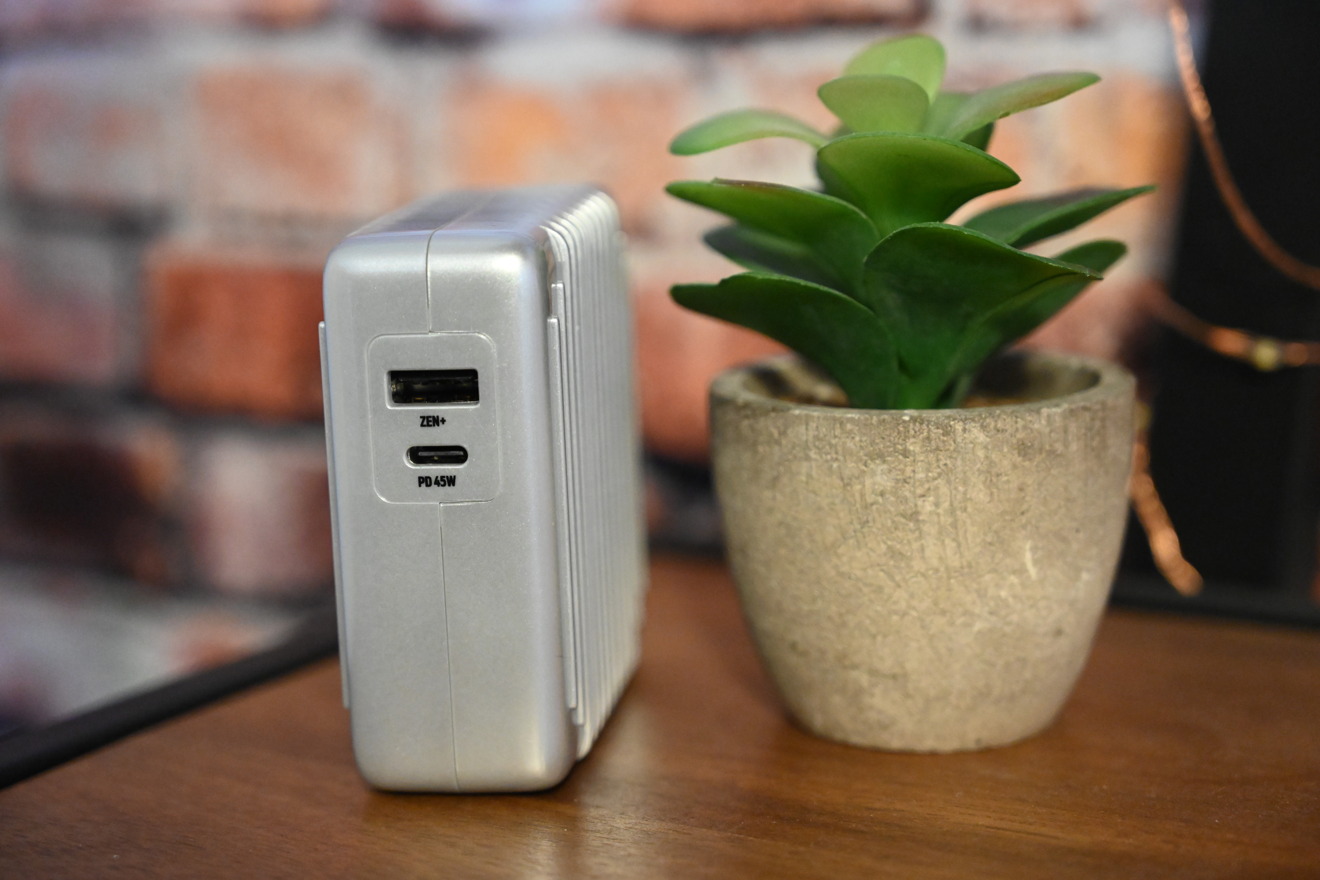 On the front of the Mix Go is a subtle Zendure logo above a quartet of status LEDs and a small battery button. One side of the charger as a US power adapter that can also be retrofitted with world adapters while the opposing side has a USB-A port as well as a USB-C port.
Usage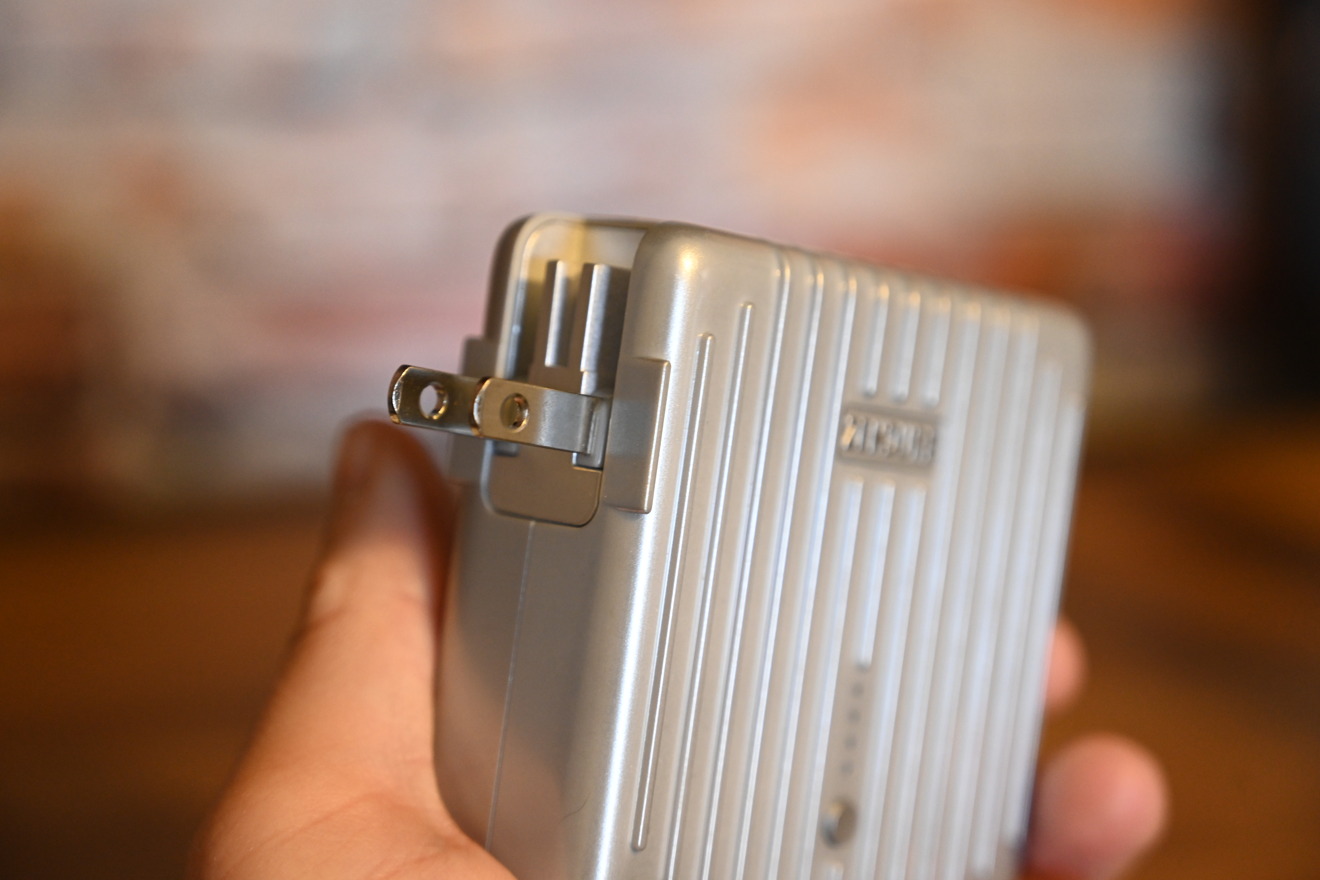 The Mix Go works out of the box in the US, but adapters for the EU and the UK are included and an AU can be picked up as well. The plug of the Mix Go collapses when not in use and it is in the collapsed state that the world adapters can be slipped right over top and into place. This keeps the form factor compact but modular.
Mix Go is capable of a total combined output of 45W split between the two ports. When used on its own, the USB-C PD port can deliver 45W to charge a MacBook, MacBook Air, or MacBook Pro and when used in tandem with the USB-A port, the type-A port can delivery 15W while the USB-C port still delivers 30W.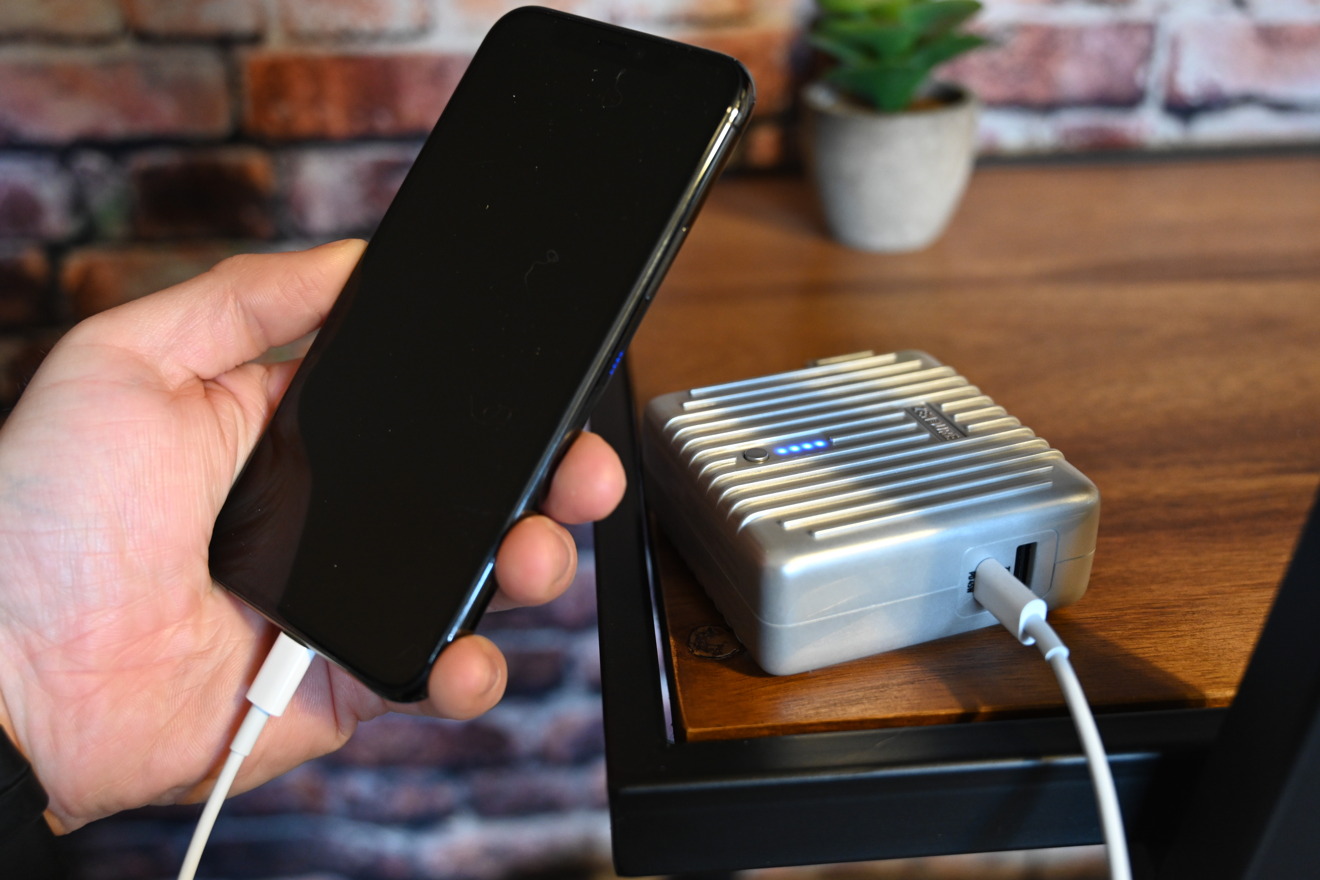 The 15W over USB-A is very close to the fast charge speeds necessary to Fast Charge an iPhone, and the USB-C port is easily enough to do just that. That means 50% battery in only 15 minutes of charging when using a USB-C Lightning cable.
In our testing, 30W can be a bit low to charge something as large as the 15-inch MacBook Pro while you are using it with taxing applications — such as Final Cut Pro X. We'd prefer something a bit faster during those times. However, the rest of the time 30W or 45W is just enough. Overnight, it can charge the Mix Go battery, our MacBook Pro, and our iPhone without issue.
The battery is also extremely handy. I love always having a battery pack I can fall back on, and since I use it for my iPhone, iPad, and Mac's power adapter it is always charged when I need it.
With a 5,000mAh charge max, you don't exactly have unlimited power — but it gets the job done. That will give you a little more than a full charge on an iPhone 11 Pro and about 1.3 charges for an iPhone 11. It falls just shy of being able to entirely charge an iPhone 11 Pro Max from 0 to 100, but over a weekend, it turned out to be just enough.
Should you buy it?
There are a lot of aspects we love about the Mix Go. The design is great and functional, the battery pack is always charged and immensely useful to have around, and the fast dual USB outputs is almost all we need to power up our gear on a daily basis. If you have a MacBook, MacBook Air, or MacBook Pro 13-inch this is an easy sell — it is far more practical than Apple's own included adapter.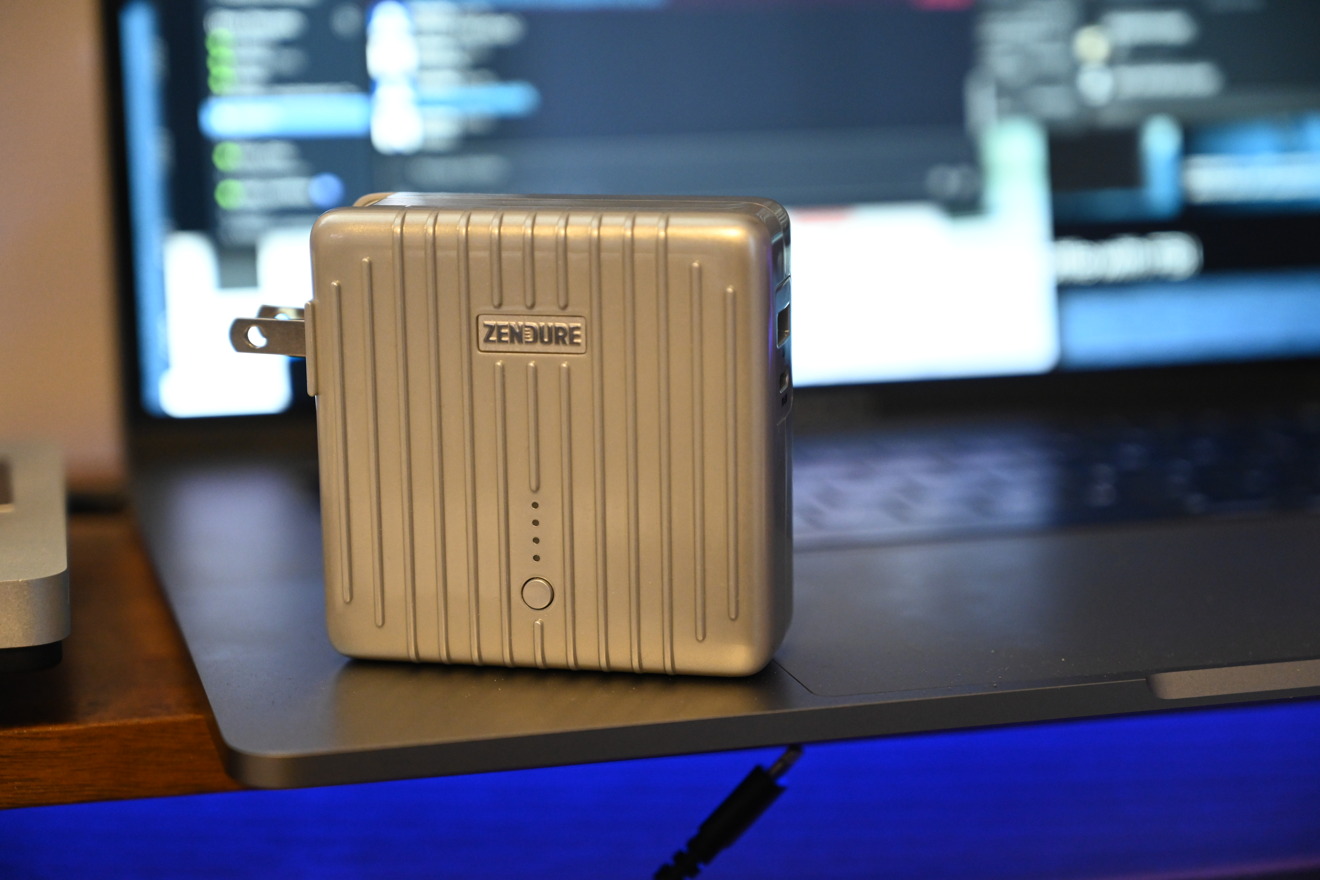 The only place it falls short is when used with a 16-inch or power-hungry 15-inch MacBook Pro. In that case, 45W is sufficient though slower than the 87W or 96W adapters Apple includes. But for light use or weekend travel, we were able to make it work without much of an issue.
Compact design
Latest GaN technology
Total 45W output is enough for most devices
Can fast charge iPhone over USB-C
Internal battery brings portable power
Affordable price point
World power adapters
Unique design
Can struggle to charge power-hungry 15- and 16-inch MacBook Pros while in use
Only one USB-C port
Rating: 4.5 out of 5
Where to buy